(Great Books I Read in 2022 and Some Not so Great)
This is my first time doing a recap of the books I read in a year. I usually just glance over them on Goodreads (Read: 10 Reasons to Use Goodreads) and don't look back. However, when I looked at them carefully, I realized that only a handful of books I read were those I truly enjoyed as a reader (i.e. fiction).
Most of the books I read were non-fiction, and many were on weight loss (Read: How I Didn't Lose Weight After Reading 17 Weight Loss Books in 2022) and other self-help type non-fiction, which, while I love reading, are not really doing much for me in the long run (I rarely implement any of the advice and lately, many of the non-fiction books are really articles extended for hundreds of pages, etc.).
They seem to be my procrastination tool.
2022 was a busy year for me. I completed a GradDip in Applied Psychology, which, with a full-time job (and family), was a full-on endeavour, and I didn't read as much as I usually would. But books were/are my go-to sanctuary when I tuck myself into bed for the night, and I really only have one criterion – it has to be an enjoyable read. The consequence is that I move from book to book, and many of them, while I enjoyed them while reading them, I can't even remember several months later.

In 2023, I intend to read and savour more fiction and some specific non-fiction (like science or biography). And I plan to read fewer books, but read them more actively, i.e take notes while reading and process them, etc.
Fiction Books Read in 2022
This was my first book by Chimamanda Ngozi Adichie. According to Goodreads, it was also the longest book I read in 2022.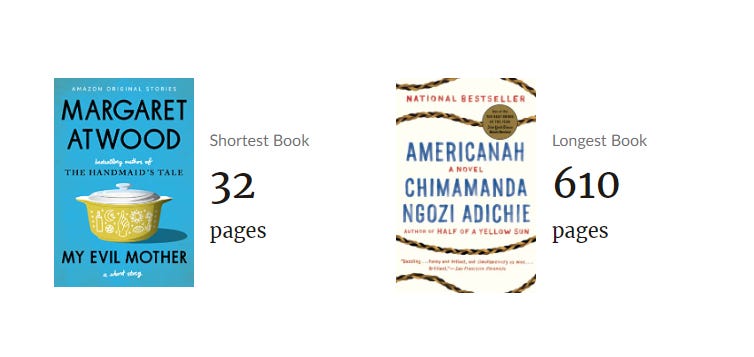 The main character is relatable on so many different levels, her inner thoughts and doubts, her immigrant life and coping skills, her love life and finally, the ending. Told from several viewpoints, this seems like a great insight into life in Nigeria. The official blurb for the boook is "Ifemelu and Obinze are young and in love when they depart military-ruled Nigeria for the West. Beautiful, self-assured Ifemelu heads for America, where despite her academic success, she is forced to grapple with what it means to be black for the first time. Quiet, thoughtful Obinze had hoped to join her, but with post-9/11 America closed to him, he instead plunges into a dangerous, undocumented life in London. Fifteen years later, they reunite in a newly democratic Nigeria, and reignite their passion—for each other and for their homeland."
But this book is so much more and my favorite book of the year.
After Americanah, I went right ahead and read her
which has the following blurb: Fifteen-year-old Kambili and her older brother Jaja lead a privileged life in Enugu, Nigeria. They live in a beautiful house, with a caring family, and attend an exclusive missionary school. They're completely shielded from the troubles of the world. Yet, as Kambili reveals in her tender-voiced account, things are less perfect than they appear. Although her Papa is generous and well respected, he is fanatically religious and tyrannical at home—a home that is silent and suffocating.
I started off loving this so much up until around the midpoint. Then it started to drag a little, and some new characters were introduced late into the novel (and ended up playing a major role). I didn't really understand many of the character's motivations, but nevertheless, it was an enjoyable read. I probably had high expectations after reading Americanah.
This review is exactly what I think about this book. I really enjoyed this character-driven sci-fi novel.
There were some mindblowing concepts there; check out this passage:
"One second ago, they were in Earth orbit. Now they've delivered their cargo to the surface of Mars. I mean now, Diane, literally now. It's already happened; it's done. So let a minute pass on your watch. That's approximately a hundred and ninety years by an outside clock."
"That's a lot, of course, but you can't make over a planet in two hundred years, can you?"
"So now it's two hundred Spin years into the experiment. Right now, as we speak, any bacterial colonies that survived the trip will have been reproducing on Mars for two centuries. In an hour, they will have been there eleven thousand four hundred years. This time tomorrow they'll have been multiplying for almost two hundred seventy-four thousand years."
"Okay, Jase. I get the idea."
"This time next week, 1.9 million years."
"Okay."
"A month, 8.3 million years."
"This time next year, one hundred million years."
"Yes, but—"
"On Earth, one hundred million years is roughly the span of time between the emergence of life from the sea and your last birthday.
If that is too confusing, here is the blurb: One night in October when he was ten years old, Tyler Dupree stood in his back yard and watched the stars go out. They all flared into brilliance at once, then disappeared, replaced by a flat, empty black barrier. He and his best friends, Jason and Diane Lawton, had seen what became known as the Big Blackout. It would shape their lives.

Life on Earth is about to get much, much stranger.
I mean, how do you not pick this up.
I may read the other books in the series.
When an extra-terrestrial visitor arrives on Earth, his first impressions of the human species are less than positive. Taking the form of Professor Andrew Martin, a prominent mathematician at Cambridge University, the visitor is eager to complete the gruesome task assigned him and hurry home to his own utopian planet, where everyone is omniscient and immortal.
While I rate this book high for its entertainment value (it is easily readable, fun, at times laugh-out-loud funny, and it has an occasional gem you feel like you want to underline), I couldn't help but perceive it as terribly pretentious, assuming it speaks for all the humans in the world.
It is, in fact, a representative of the Western world, but the WEIRD one at that (western, educated, industrialized, rich and democratic (WEIRD) societies). As with psychology research participation, WEIRD populations represent as much as 80% of study participants, but only 12% of the world's population — and with that, are not only unrepresentative of humans as a species, but on many measures, they're outliers.
Once I learned about WEIRD research, I couldn't unlearn it. I see it everywhere.
And it is extremely evident in this book. So this supposedly highly intelligent alien comes to Earth, lands (teleports) to Oxford, assumes the body of a maths professor and goes on making all sorts of generalizations about humans. And then leaves a list of 100 things he learned about the species that, again, largely is applicable only to this specific population, ignoring 90% of everyone else.
But other than that, I know, I am being really petty; it is not supposed to be a hard sci-fi book or anything, but I enjoyed it thoroughly.
This was such an enjoyable summer read (I remember reading it while lazing around in my garden).
From the blurb: Their dreams of parenthood dashed, Harvey and Isobel go for dream jobs instead. Harvey hangs up his stethoscope to become a cartoonist and Isobel takes a promotion at the local museum. Then an abandoned baby comes up for adoption, and Harvey and Isobel discover a family is more work than they bargained for. By Fleur's eighth birthday it's all come together nicely – then a voice from the past threatens to nuke their hard-won happiness. Harvey doesn't stop to think. He acts, and with tragic consequences.
Strip is an intriguing drama that explores how far good people will go to protect the people they love, and asks: Is it possible to love too much?
A man consumed by a meaningless life is going to do something he's never considered doing before. He's going to enjoy the day…
But I didn't enjoy the book.
It's not the book; it's me. It grabbed me from page one to about page 20, then another 50 pages and I realised the book will go on alternating between two main characters until page 475. I didn't have the time to devote to it. It didn't keep me invested in the characters. Some dialogue was cringy, and the plot spun out… But maybe it wasn't. Maybe I am just having this love-hate relationship with fiction these days.
Life is hard enough for a teenage girl in 1950s suburbia without having a mother who may—or may not—be a witch.
I really enjoyed this short story. Not sure I would have picked it up if it wasn't by Margaret Atwood, though. But such is life.
A novella about the repercussions of an illicit affair. Quite enjoyable.
From the blurb: When Zikora, a DC lawyer from Nigeria, tells her equally high-powered lover that she's pregnant, he abandons her. But it's Zikora's demanding, self-possessed mother, in town for the birth, who makes Zikora feel like a lonely little girl all over again. Shunned by the speed with which her ideal life fell apart, Zikora turns to reflecting on her mother's painful past and struggle for dignity. Preparing for motherhood, Zikora begins to see more clearly what her own mother wants for her, for her new baby, and for herself.
This was a longish short story and thoroughly enjoyable.
On a whim, Evan accepts an invitation to housesit on a picturesque island in northern Minnesota. At first, it seems like the perfect second chance for he and his son to recover and rebuild their life together.

But there is something very, very wrong with the house and all that occupies it. And worst of all, Evan doesn't know if the house is haunted…

…Or if it's all in his mind.
It was scaaary!
Like many of the popular contemporary fiction reads, it started off really great and interesting, but it lost me at Part 2 (the story is divided into three parts) because it veered off on several tangents, and I didn't really get a sense of the main character or her decisions and motivations.
When dr. Grant encounters a new virus, with disturbing symptoms, and when the case numbers keep rising, he will discover not only his true vocation, but who he is and the true face of disease.
A dark, medical fantasy…
Don't you just love it when you find a book you can't wait to get back to at the end of the day? This was "Alternative Medicine" to me over the course of a week or so. I mainly read on my Kindle, tucked in my bed at night with all the lights off, and this was a perfect book for that. It had me glancing over my Kindle to see if anyone was standing next to my bed. It had me fully immersed in the story in that wonderful way that only some books can – when you forget who you are, where you are and you become part of the story.
Horror is not my usual genre (this is described as medical mystery I think), although I go back to it every now and then. The characters in this story grabbed me from the start and I wanted to keep on reading. The main character and the world of "Seepers" are wonderfully crafted and seem very real (I mean, really, what if every disease was a Seeper that has attached to its victim?).
A wonderfully enjoyable read.
My first speculative fiction and my last book of the year.
I liked the characters, I was invested in them. The book lost me towards the end; it wrapped up quickly and somewhat unbelievably (and to some extent without a point – you know, the old 'fiction has to make sense')
But for the overall enjoyability, yes, recommended.
I am more of a hard sci-fi fan, and the genre of this book got me really confused. It turns out I was accidentally reading speculative fiction. Glad I did.
Non-Fiction Books Read in 2022
One of those coffee table books with pretty pictures and (very short) snippets of advice and some recipes. I bought this second-hand for a few $ and quite enjoyed leafing through it, but, not sure it would be enjoyable had I paid the full price for it.
Politically Incorrect Parenting: Before Your Kids Drive You Crazy, Read This! by Nigel Latta
Right or wrong, I find Nigel Latta's books entertaining even if I don't agree with all of his parenting strategies.
He'll Be Ok: Growing Gorgeous Boys Into Good Men by Celia Lashlie
I don't really know what to think about this one. It was recommended to me by my mother-in-law, who (successfully, I think) raised four boys.
But the whole time, I felt that the author was describing these little alien species, rather than little humans. Although the author does state that the book is for fathers and sons, maybe fathers would identify better with the concept. I totally didn't.
I read this first when my boy was five, and I reread it now in 2022 when he is twelve – and I feel about the same now.
Better Than Before: Mastering the Habits of Our Everyday Lives by Gretchen Rubin
Another re-read. This is not as great as her Happiness books (I loved them!), but I learned a bit about myself (I am a Questioner/Abstainer), and I learned even more about Gretchen Rubin.
The Gift: 12 Lessons to Save Your Life by Edith Eger
My first encounter with Edith Eger. A book on how to stop destructive patterns and imprison thoughts to find freedom and enjoy life. A great read, although, like anything else, you have to implement some of the advice to reap any benefits.
This is a long book, but I found it enjoyable to chip away at it bit by bit.
Life's Too FIng Short: A Guide to Getting What You Want Out of Life Without Wasting Time, Effort or Money* by Janet Street-Porter
The book had me at this blurb: An indispensable guide for women to surviving in the 21st century. It shows how to combine work, relationships, friends, fashion, health, shopping, cooking, etc. without using up valuable time which could be spent enjoying yourself.
I didn't really find it to be indispensable. It was entertaining.
As someone who is dreaming of a long, luxurious cruise, this was the next best thing. Written by experienced cruisers, you learn so much about that mysterious day-to-day on a cruise ship (food, entertainment, more food, more entertainment) Sign me up!
The Magic of Short Books: Discover a Unique & Different Kind of Book to Attract Your Ideal Customer by Mike Capuzzi
One of my Kindle Unlimited finds. A short book about how to write helpful short books or "shooks". Shooks are uniquely-designed books with a single, helpful focus that are faster to create and easier to read. This makes sense.
The Astonishing Power of Emotions: Let Your Feelings Be Your Guide (Law of Attraction Book 4) by Esther Hicks, Jerry Hicks
If you can put aside the whole channelled group of beings called Abraham (but if that is your thing, that's ok too), this book will help you understand what emotions are, what each of them means, and how to utilize your awareness of them effectively (and it may do it better than some New York Times bestseller self-help disguising as science) You will come to appreciate, and make peace with, where you are right now, even though there is so much more that you want.
I just love Esther Hicks and the Law of Attraction. True or not. It really doesn't matter if it brings value to you, and it truly does to me.
Daily Rituals: How Artists Work by Mason Currey
It's always great to read about how artists organize/d their time.
The Power of Regret: How Looking Backward Moves Us Forward by Daniel H. Pink.
And yet another book with a one-sentence premise "everyone has regrets, and accepting the fact and reflecting on it can help us move forward." And this is shown through what feels like hundreds of very similar stories.
It's an attractive prospect because we keep hearing "no regrets" – and I for sure have many. But this could have been a blog post. Disappointed.
---
And there were 17 more books about losing weight and healthy eating that I read in 2022 (a mistake I hope not to repeat again) and that I describe in this post.