(And How Doing That Will Help Liberate Your Thinking)
For a long time, I struggled to find that ONE perfect digital tool that would encompass and satisfy all my needs for organizing, storing, writing, studying, saving articles or parts of articles, linking various notes and ideas, with easy, seamless, mobile access to my digital content, tasks, calendar, easily modifiable to fit my own needs and train of thought.
For a while, I thought Notion was it, just like, once upon a time, I tried to make Evernote all that. I still have thousands of clippings in my Evernote (literally 9158 notes, most of it clippings of articles I read and liked on the Internet, but also my emails, documents and even photographs) over the past 10 years of faithful usage. Please note that being able to clip all those articles or parts of articles was so revolutionary back in 2011 when I first signed up for Evernote. While I don't save or clip much anymore I don't want to part with thousands of clippings, many of which now only exist in my Evernote (websites like this one just die and disappear after all). I know, I would probably not miss much if I did lose it all, but nevertheless..
Then I considered making Obsidian more than it was created to be, seeing myriads of videos of people trying to do exactly that, adding dozens of plugins to journal, collect, store and even run projects in Obsidian.
But often, it seems to me (and I have been there) these tools stop being means to an end, but they become an end in themselves. Too many bells and whistles, and you end up working for those tools rather than the other way around.
I gave up long ago (although it is tempting) on constantly updating and prettifying my tools.
Just google 'notion templates', and you will see hundreds of pretty Notion pages that may or may not be useful to anyone, including their creators. Because once you actually start using them you realize that all the pretty pictures, widgets, music and whatnot serve no purpose if you want your tool to be a useful assistant to your productivity rather than another procrastination tool, another way for busywork (I have had my share of those).
My Digital Worklflow and Tools
So after some deliberation and all the tools to choose from, I felt the need to clarify my requirements and define the way I use my digital tools. The list below is nearly word for word copy of My Digital Workflows Page that I keep in Notion.
It is deliberately a very fluid list, and I change it as my needs change.
I offer a small subtitle on that Notion page that says: My "best practice" (but fluid) workflows for processing ideas, information, interests, and documentation. And then I describe the way and reason I use each tool (for my own clarity of mind and process)
I often remind myself that I don't have to run around after everything or try every new thing.
Even if it is very tempting to do so.
Main Documents storage and backup
Photographs, videos and their backup
All current documents (all documentation and scans, good living, ebooks, yoga, writing, anything that would go into a computer hard drive)
backup of old, unused documents and mementoes (Evernote backups, old word doc backups, old work doc backups, old email backups, various mementoes)
Photographs from my phone upload directly into Dropbox (until I sort them into permanent folders)
Obsidian sync
I use Dropbox's "selective sync" on my laptops (I only sync folders that I currently use)
Cost: 120 USD every January (2TB storage space)
A central hub of all my current activities and learning (not for storage, archive, etc. I am deleting when something is no longer current)
My personal and long term projects;
A page for each of my kids and their school/activities and anything related to them.
My Life Handbook (within the Hub): includes goals, quotes, narratives, etc.
Idea dump and brainstorming
Cost: Free
This article (Create Your Life Hub in Notion) briefly describes how I use Notion as My Life Hub. It's a fluid system, but Notion is the tool I refer to the most thoughout my day, esp. if I am studying/learning something.
all appointments
reoccurring events (like my yoga classes, kids' sports, group meetings I regularly attend, etc.)
syncing with my husband's calendar
important dates and birthdays
Cost: Free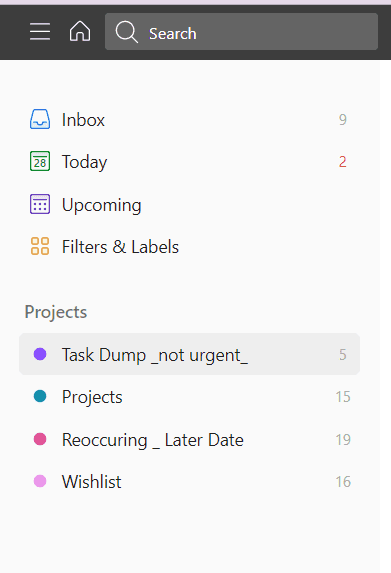 All my specific To Dos (I dump them into a project I call "Task Dump")
Reoccurring tasks, reminders for document extension, etc.
Wishlist for items I'd like to buy (Todoist has a neat web capture feature, so I can add online links)
Some small personal projects I'd like to do
Todoist is currently my main tool for tasks (it is so much better than Google Tasks or Apple's Reminders, it's really a great tool, especially as I am trying to be really mindful of my To-Dos.)
Cost: Free (the free version is ok for now (it comes with five projects, but you can have multiple tasks within those projects). The free version doesn't have email reminders but it does notify me that there is a task due on my phone or a desktop app. It seems to be all I need at the moment.
A collection of family photos and short captions (by year) – I attach them straight from my phone to the app (I usually add captions when I have some time on my Macbook)
A collection of short personal video clips I like to keep and easily refer to when I need them
Journals can be printed into books (they are almost as good as digital photo albums)
(I used to make comprehensive digital photo books, but they are really time-consuming and I wanted something I can easily do from my phone. With Day One, I can easily capture things like something my kid said, document a memory in bullet points or take a screenshot of sweet love messages my husband sends to me (ha!) and upload it into my Day One journal for posterity)
I tried to keep other journals in Day One, but I spend too much time in front of my computer as it is, and I prefer to do my journaling the old fashion way.
Cost: 34 USD a year
My Knowledge Database (my Zettlekasten)
note-making
ideas and concepts to explore and write about and connect in a non-linear way
freethinking
a way to connect disparate ideas
Obsidian is just awesome. I have hundreds of notes that I created and linked to one another. I resisted the urge to add any plugins or try to make it anything else but a place to capture my thinking. I don't try to organize it in any excessive way. I sync it via Dropbox to multiple computers I am using, but I do not have the mobile version (you have to pay for Obsidian sync, and I just don't think it is worth it to me just yet).
I capture anything on the go in my phones note app or even in a paper journal and then just enter the fully fleshed-out note to Obsidian later.
keep simple – do not add plugins or themes
Cost: Free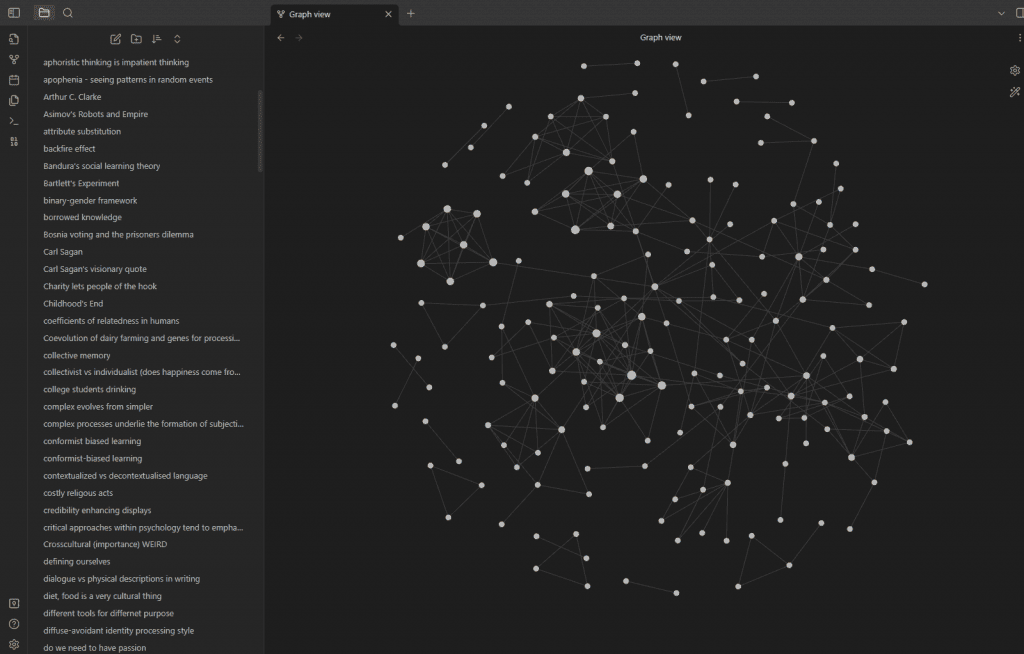 A collection (database) of clippings I collected over the years, in a linear fashion, in Notebooks.
Used for Storage
A dump of different memory-keeping items (pictures, notes, emails) (2011-2022).
Evernote has by far the best clipping tool there is (although I am making a deliberate effort not to collect everything of interest I encounter anymore).
Also, I have replaced Evernote with Day One for some of my digital memory keeping because I love to be able to print a book of my mementoes and pictures.
Cost: I used to have a paid version of Evernote, but have since moved to their free plan and now, I am mostly using it as Storage.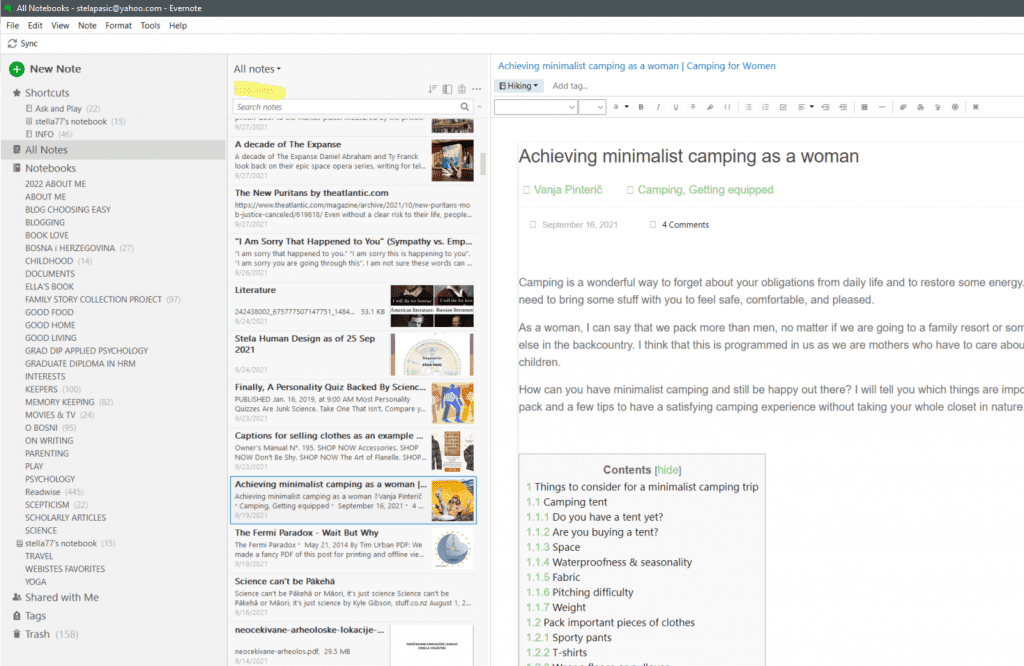 (Apple) Notes
on the go note taking (usually on my phone)
a quick note or dictation to be processed later to Obsidian or wherever it needs to go
frequent info (such as grocery shopping items, notes, directions, etc.)
deleting most notes after processing
Cost: Free
This is where I dump any clickbait articles or any interesting long form articles that I feel I need to read. It pacifies my fear of missing out, even if I will probably never read them all.
But often I do, on my phone, and I usually delete them after reading. If I particularly liked an article or an essay, I archive it into pocket. Pocket has a highlighting feature, so I can highlight paragraphs and send them to my Apple Notes for (possible) processing to Obsidian.
Cost: Free
The free version lets you create three highlights per article. This is usually sufficient for me, however, if I need more, I just send the highlighted text to Apple Notes, delete the highlights and highlight some more. However, I find that the limit on highlights actually makes me consider what is really important to save and why.
This is the newest addition to my essential tools. I just love, love it, and I hope to write a post about this tool soon.
I bought a lifetime version, and it was worth every cent.
It replaced Scrivener for my long-form writing (while I loved scrivener, I am using multiple computers throughout the day, and I needed something that syncs seamlessly everywhere without having to download any program or worry about syncing my writing (I used to sync Scrivener through Dropbox between my Mac and Windows computer and I even had a phone app but it was all too clanky for me)
Dabble Writer does all that, and it does it really well. It is not feature heavy as Scrivener (or some other tools I trialled and for me, in this day and age, that is a good thing)
I want to write, and Dabble Writer lets me do that in the most beautiful and easy way possible.
COST: One-time purchase (subscription options available too)
My Digital Workflow Flows
Having all of it written down as I have helps clear my head and justify all the different tools I am using.
I am not using all of them every day and I try to capture as little as possible now. I don't try to obsessively save every article I loved, every memento, every memory. I even used to save my to do lists.
But with age (or experience or both) comes wisdom. We are more aware of what we want and we become more aware that our time is finite. Which is why I remind myself that I need to capture more of my own ideas and thoughts and let go of my to do lists (and any trackers) as much as possible. I am very selective about what I consume. A newsletter here and a link there…and we pay for it with our time.